Page-to-stage, canvas to screen: finding humanity in the stories we share
Time Travel through Fiction into History
Each summer, I run an internship program with high school students from D.C. Public Schools. We partner with the nonprofit, On Ramps to Careers, to recruit, host and mentor these amazing GenZ young people. Their world is lived in real and virtual spaces–made even more so by the pandemic–and their lives are filled with stories: the kind they live in real life, and the kind they share on social media, with friends and strangers.
The theme of our internship is storytelling as time travelers, on the road to bring history into the present. How do we begin to experiment with storytelling based on the past? And where does it intersect in their lives today? And how do they take that story into their own futures?
Of course, we start with novels—my YA time travel adventure book series at the Edge of Yesterday (EOY) is the perfect departure point. Because, at heart, it reveals how history influences the present, and gives my protagonist Charley some perspective on how to invent a new, better future, I use this as a departure point to reflect on the "echoes" history that reverberate into our present.
But we have work to do! I invite my seven interns to choose the where and when of their own time travels, and what—or who—they'd like to see and experience when they get there. They have chosen a wide range of settings – from the Jurassic to a century in the future. Two are interested in visiting the moment their parents met, or married, with the obvious paradox that being there might create.
From that vantage point, they are free to weave the tale, which we'll be featuring over the summer on this blog, and in our Time Travelers portal at The Edge.
Turning the Page—to Stage
Our second storytelling form: theatre. We went to see a debut of the hilarious play, "Nollywood Dreams" about what happens to the stars, fading stars, star-makers and wannabe stars in Lagos, Nigeria, the third biggest filmmaking capital in the world after Hollywood and Bollywood. For most, it was their first time attending a professional production at Round House Theatre in Bethesda, Md.
After the show, we had a private talk-back session from apprentice director Ashley Mapley-Brittle. Ashley, who has studied theatre, and directed in both the U.S. and London, shared how she fell in love with the stage storytelling as a little girl after seeing "Beauty and the Beast" with her grandmother, her first show on Broadway. Interns then got to meet the play's director and the leading man, who gave props to LeRon, a poet and writerwho aspires to being an influencer on social media.
Jessica M., an accomplished storyteller, gave the show high marks. "…the play displayed a cultural nuance that set it apart from different parts of Africa. […] In other words, girl, it was a 10/10 must recommend."
LeRon B. said, "The play was phenomenal. I loved and felt the energy of the actors throughout the entire play. I felt the bond between the actors, and the play didn't feel like a play. It felt like was watching a movie in 4D."
Leeyah A. gave it highest praise: "I enjoyed the play! In fact, if I could watch it on TV, I would."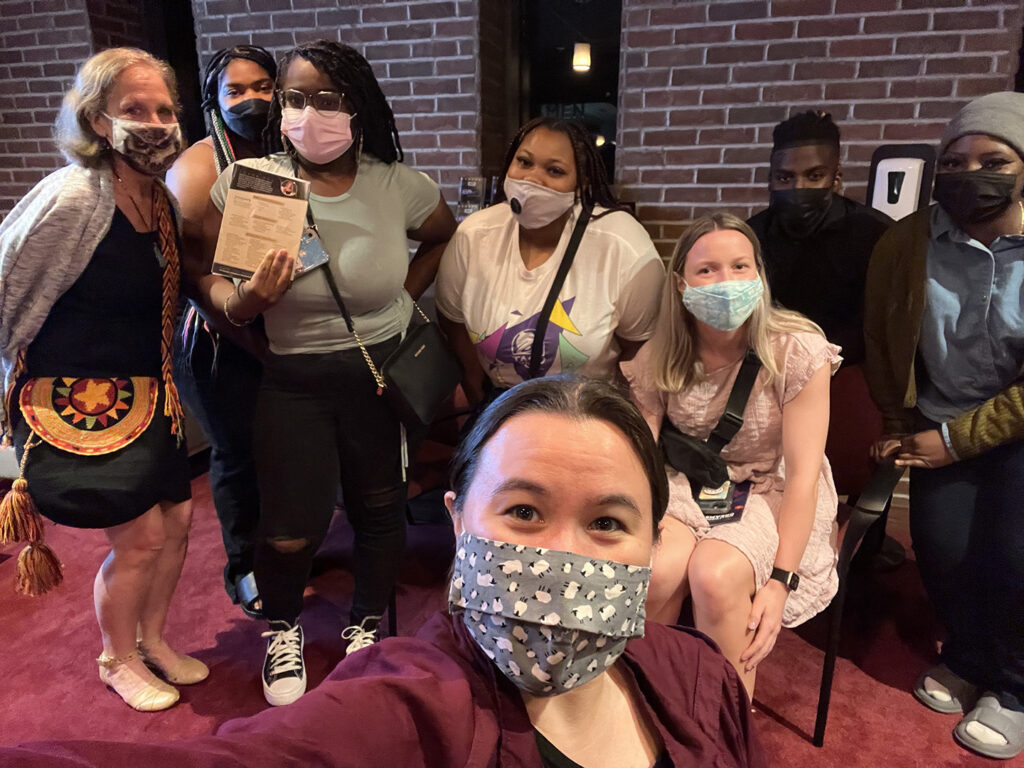 Black Heroes Matter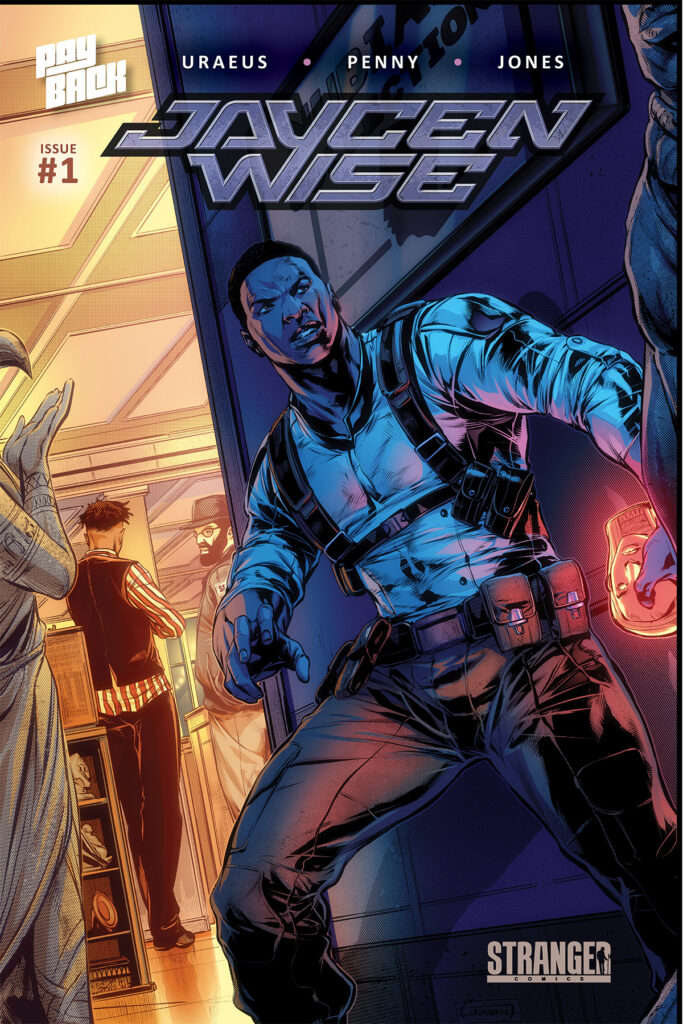 Third form: superhero comics. Our interns shared the Zoom screen with URAEUS, creator of the comic book hero Jaycen Wise, and founder of the Black Heroes Matter movement. Why, they asked, would you write that particular story? URAEUS responded that, when he looked around, no one else was telling it. As the father of three Black sons, he wanted to bring to life a world where people like them were the heroes.
Sometimes, you have to see it to be it.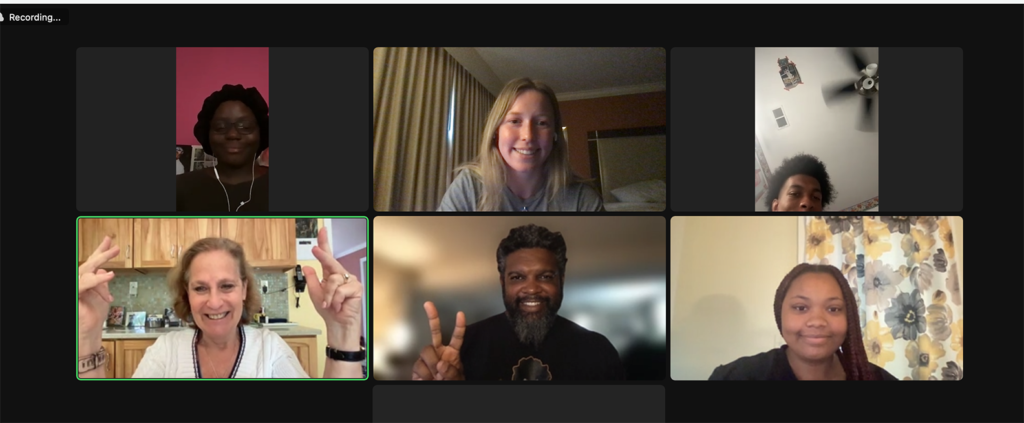 Early travels in the multiverse
For fun over the weekend, I watched Dr. Strange in the Multiverse of Madness. Now that it seems that companies like Meta and others are on the verge of creating a virtual world where anyone can escape to at will, this story seems to have taken on many lives, many possibilities on screen.
My questions about such stories mirror the conundrum my own characters create when they pass through portals of time: When universes collide, who and what am I? Are you? Are we? Are we the sum of many selves, many lives? When we make mistakes, do we get second chances in another world to do better? Do we learn from our mistakes?
Or, as in Dr. Strange and the Multiverse, are we our own worst enemies…always looking for a different world, where we can be happy? Haunted by familiar demons, enthralled by spells of our own making?
Or can we find our happiness in any moment? Do we create our reality, or let it create us? What magic spells does our own Book of Vishanti hold that gives us our superpowers?
But why speculate on an imaginary, futuristic multiverse when we have evidence of the real deal, enabling all of us to become time travelers of many galaxies throughout spacetime. The James Webb Space Telescope has just unveiled the first images of galaxies so far beyond our own, that light from them has traveled to us directly from the Big Bang. We watched the first images during our Zoom meeting on July 12, 2022, when a man-made telescope from Earth, parked one million miles distant from our pale blue dot of a planet, beamed back images made in the infrared spectrum of light that traveled more than 13 billion years from the dawn of time (our time? this time? Earth time?) to reach its cameras. And none of us could begin to rap our heads around what that number even means: 13 billion.
Awe inspiring.
And thus, a new origins story is born.
We Humans Are a Storytelling Species
As storytellers of our own lives, we are all masters of the mystical powers. We can use them to conquer our demons—or let the demons conquer us.
Our young creators, masters of their own stories, are learning they contain a multitude of stories. Our introduction to the multiverse of real life wonders has only just begun. Through their creations, our aim is to empower them—and all of us—to find their own secret codes to meaning and purpose in the multiverse. A place to find the LIGHTHOLD, even amid darkness.
Selfie Stories
This week, the third in EOY's six-week summer program, we virtually visited the National Portrait Gallery. Because pictures—portraits, paintings and, yes, selfies of sorts, from pre-digital times—tell stories that words cannot always do sufficient justice to. And, with the guidance of a Smithsonian docent, we will also learn the stories behind the portraits, and what they say about both the portrait artist and the sitter.
Our docents asked the interns what this self-portrait of photographer and author Carl Van Vechten, a promoter of the Harlem Renaissance, said about his mood, how he was dressed, and how he framed the portrait as both photographer and sitter. "Determined." "I dare you." "Messy." Several observed that it looked like he'd had a bad day.
And from there, to social story sharing, on today's digital platforms.
Cannot wait to discover more of the stories these young people dare to share, yet to unfold in the weeks ahead–written, painted or sculpted, in the Cloud, on canvas (and Canva), on stage and on screen. In time or out of it.
Being open to the unknown, with the power to create in this real world, to make stories through a lens of their choosing, and to share their unique voices to others who have ears to hear and eyes to see the stories they choose to shape and share. It's where dreams become real.
So I ask you to imagine. What story will you tell?
And while you're dreaming that into light, check out your stories at The Edge of Yesterday. Where a new time travel, Find Me in the Time Before is about to unfold to spark your imagination, inspire your dreams and ignite your superpowers.