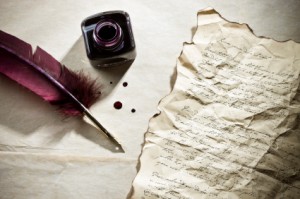 As I toil away on the second draft of my novel, Out of Time, thinking of the time, care, creative energy and effort I have put forth on this epic adventure, beginning with the seed of a story in 1997 through the prodigious output resulting in today's (2014) screenplay-novel-tweet storytelling, Web-based learning platform, I wonder what it's all worth. Not in the sense of the value in my life to serve this purpose of Creator-in-Chief of Charley's adventures in Leonardo's World, but in the marketplace.
As I learn more about the publishing industry today, and how much of the take on book sales flows back to authors–and compare that to the perceived benefits of self-publishing where, once the initial investment in the print process is recouped, 100 percent of the returns go to the author, the results even for bestselling authors look discouraging. For a $14.95 paperback, the author receives–wait for it–95 cents a book. Not much of an ROI, is it? How does anyone with less of a runaway success than Harry Potter ever hope to earn a respectable living.
Then there's this: today's Washington Post runs a story on this season's Christmas must-haves for all little girls: the Princesses Elsa and Anna dolls from the Disney movie "Frozen." These mass-produced molded dolls retail for $75.99 and $49.99, respectively, outfits sold separately.
By my reckoning, that's $125.00 for dolls that will be left in the dust as soon as the NEXT BIG THING hits the shelves. Granted, the doll merch grows out of storytelling–and there's nothing to say that a Charley superhero action figure couldn't hit the shelves in a big way. But the marketplace again rewards the stuff and not the value that a book, a movie, a story can confer to nurture a child's lifelong growth.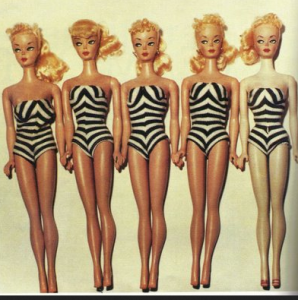 Because, honestly, I remember getting my first Barbie doll at my fifth birthday party at The Pee Wee Valley amusement park in Cincinnati, Ohio. After riding the rides, and having cake and milk at the picnic tables, it was that Barbie, with her frozen expression and her stiffly moving limbs and neck, that captured my attention for the rest of the party. This doll, and the Ken doll I later got (along with a Barbie wedding dress–in those days, my mom wanted to ensure Barbie would be married before she could play with Ken!) were the phenom du jour.  A certain amount of role-playing and rehearsal for growing up went along with these teenaged dolls of ridiculous proportions. But in the end, Barbie lost her hair in a swimming accident in the bathroom sink, her wardrobe in a garage sale, and her Dream House to the little girl down the street.
But it is within the pages of kid and teen lit that I remember finding myself. A Wrinkle in Time, The Secret Garden, Little House on the Prairie…and later, Gone with the Wind, A Connecticut Yankee in King Arthur's Court, To Kill a Mockingbird–these were stories where I could identify aspects of myself, engage in pretend, and take on the problems of the world within a safe context as rehearsal for who I wanted to become.
But maybe I wasn't the ordinary kid. I was more interested in creating worlds than living through someone else's version.
I think every child has the creative capacity to become who they are meant to be, if only we know how to nurture, provoke, engage and further that superpower. Which is the genesis for all things Out of Time.
As an author, this is my 95 cents worth. Though I am hoping it is actually worth more to the children with the power to become. Impossible dream?
I like to think not. Let me know what you think.