http://edtechwomen.com/blog/2014/2/23/announcing-the-edtechwomen-sxswedu-lightning-talk-series-at-the-helm-womens-impact-in-edtech
ANNOUNCING THE EDTECHWOMEN SXSWEDU LIGHTNING TALK SERIES – AT THE HELM :: WOMEN'S IMPACT IN EDTECH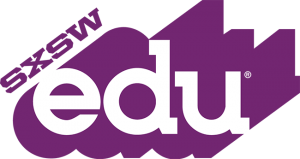 The experiences of women working in EdTech are stories of community, inclusivity, visibility and impact. They are stories that are transforming the industry as we know it.
This year at SXSWedu, EdTechWomen has the honor of showcasing the stories of twelve exemplary women who are making the EdTech Ecosystem grow, change, and accelerate its impact on learners everywhere.
Each speaker will give a five minute Lightning Talk to share their story. Speakers are listed below with the title of their Lightning Talk and a brief biography. The session will be moderated by Margaret Roth, Chief Operating Officer of An Estuary and EdTechWomen Co-Founder. Please join us Monday, March 3 at 3:30PM – 5:30PM in the Hilton Austin Downtown Salon E.
For immediate release.
Heather Hiles :: What a Long Strange Trip It Has Been – My Unique Path to Pathbrite
Heather is the founder and CEO of Pathbrite, the world's first Portfolio Learning Platform. Launched in 2012, Pathbrite's portfolio platform is poised to reshape learning, teaching and assessment across the globe.
Prior to founding Pathbrite, Heather built a career in education, workforce development, and finance spanning nearly 25 years. Her leadership experience include: COO, Break-the-Cyle, Commissioner for the San Francisco Unified School District; ED of Silicon Valley Social Venture Fund (SV2); Co-Founder of EARN Asset Building Initiative; and CEO of SFWorks, a nonprofit that transitioned women from welfare into careers.  Heather received her B.A. from University of California at Berkeley in Economic Development and Ethnic Studies and MBA from Yale University.
Erica is a former teacher and educational psychologist, working today on brand, content and business development strategies for the world's largest media and entertainment companies and for the emerging start-ups that seek the same. She is a Technical Advisor to the Bill and Melinda Gates Foundation, a mentor in Socratic Labs, and an advisor to and investor in leading ed tech ventures.
An Emmy Award-winning TV producer and executive, as well as digital pioneer, Erica is known for masterminding one of television's biggest brands as President/CEO of The Food Network/foodnetwork.com, staging a complete business and brand turnaround. Erica was digital when digital wasn't cool: way back in 1994, she started one of Madison Avenue's first digital advertising agencies, Saatchi Interactive.
Alina Vandenberghe is the Head of Mobile at Pearson where she is working on the digital classroom of the future. Before joining Pearson Alina worked at Bloomberg & Thomson Reuters where she launched award winning digital products, some keynoted by Steve Jobs at Apple events.
Alina loves the challenge of building products that can impact the lives of millions of users and leading teams made of diverse talents and personalities – designers, engineers, product managers, marketers, sales, architects – and never shy away from challenging deadlines. She spent the last eight years building web and mobile applications on a broad range of platform and technologies, from custom Java to Joomla and from Android to iPad both for enterprise and award winning consumer applications.
Luz Rivas :: A Holistic Approach to Developing Women and Girls' Interest and Experience with Technology
Luz is the Founder and Executive Director of DIY Girls. DIY Girls inspires girls and women to explore engineering and technology. For the last 10 years, she has worked in STEM education. She has developed outreach programs focused on increasing underrepresented minorities in STEM fields at Caltech and most recently was a director at Iridescent where she worked on training programs for engineers interested in teaching kids.
She has presented at conferences such as American Society of Engineering Education and Engineers without Borders. Luz started her career at Motorola where she was an Electrical Design Engineer working on position and navigation systems for the automotive industry. She has a Bachelor of Science in Electrical Engineering from MIT and a Master's in Technology in Education from the Harvard Graduate School of Education.
Gina Sipley :: Teachers Who Code: Igniting a New Era of Product Development
Gina Sipley has been recognized as a Teacher of the Future by the National Association of Independent Schools and an Emerging Leader by the National Council of Teachers of English Conference on English Leadership for her commitments to technology, social justice, and sustainability.
Merging her expertise in writing instruction and her growing Ruby-On-Rails skill set, she is the co-creator with Mercer Hall of Blazer, a writing app developed by teachers. Blazer recreates the intimacy of a writing conference and assists students with writing clear, logical, and dynamic prose. With a decade of experience in K-12 and Higher Education, she is a certified English, Social Studies, Math, and Science teacher who has developed and taught curriculum for a variety of public and private institutions.
A Humanities teacher for 20 years in several of Oahu's private schools, Amy is a leader in educational technology professional development programs. She is currently teaching Theory of Knowledge at Le Jardin Academy International Baccalaureate World School.
Her work in the History for Music Lovers project YouTube channel, which features history-based parody music videos with almost 10 million views, has appeared in Wired magazine, The Washington Post, The New Yorker, Honolulu Magazine, CBC, NPR, and international blogs and media. She was privileged to present at TEDxHonolulu 2011 and serve as co-curator for TEDxHonoluluED 2013. She has presented at Ignite Honolulu, The Association for Advanced Computing in Education, EdTechTeacher iPad Summit, and in Vancouver at the British Columbia Social Studies Teachers Association Conference. Amy has been an active participant-learner in several MOOCS (#etmooc, #edcmooc, and #teachtheweb), named a Webmaker Fellow by Mozilla, and is a firm believer in radical transparency, open ed, and remix culture.
Dr. Hughes is an Associate Professor of Learning Technologies at the University of Texas, Austin. Dr. Hughes' research and teaching examines technology integration in teacher preparation programs and K-12 schools.
She studies how teachers and K-12 students use technologies in-and-outside the classroom for learning and how school leaders support classroom technology integration. Her current work examines content-based approaches to educational technology instruction and inquiry approaches to professional learning. She earned her Ph.D. in Educational Psychology at Michigan State University in 2000 and was an elementary and middle school computer teacher in Silicon Valley in the early 1990s.
Robin Stevens Payes, author and creator of the young adult time travel adventure Out of Time, writes often about health, research, science, and psychology for the National Institute on Drug Abuse (NIDA) award-winning Sara Bellum Blog and other NIDA and NIH publications on the neuroscience of addiction. She was founding editor-in-chief of LearnNow, the Web portal introducing parents and educators to the science of learning. She most recently wrote about empathy for the neuroscience research Dana Foundation Web site and for the Dana blog about teen learning about drug abuse via social media based on a case study about the Sara Bellum Blog published in February, 2013, in The Journal of Social Marketing.
Payes is founder and principal of WordsWork Communications, a social marketing firm applying cutting-edge communications to bring research to life.
Aoife Dempsey :: Customer Centric Product Development – An Approach for Building Successful Product in a Changing Market
Aoife has spent her whole career at the intersection of technology and education, having worked in Professional, Higher Education and K-12.
As the Chief Operating Officer of Triumph Learning, she is responsible for determining the digital strategy and developing new product. Her specialty has been identifying new opportunities using a customer co-development approach. Her team were recent recipients of a Bill and Melinda Gates Foundation Literacy grant for their "Get Waggle" product, a practice program launching in July focusing on Smart Practice for ELA and Math.  A native of Cork Ireland, Aoife is based in New York City.
Jodi Lis :: To Reinvent Yourself, You Have to Trust Yourself
Jodi works in the international development sector integrating, supporting and developing ways technology can transform and enhance in teaching and learning in places that are not always connected, don't have electricity 24/7 and are at varying stages of accessing technology.  She is currently ICT for Development (ICT4D) Advisor at Jhpiego.  She has provided technical leadership to educational technology interventions in Africa including Kenya, Liberia and Zambia. Living in West Africa for 13 years, she managed a USAID-funded private sector development project, owned a tourist shop specializing in supporting locally created products and taught at an international school.  In The Gambia she directed an organization to promote the use of technology in education and worked with primary schools country-wide to develop technology programs.  She has a M.A. from the Fletcher School of Law and Diplomacy, Tufts University.
Jennifer Argüello :: Let the Flappy Bird Actually Fly
Jennifer is a Senior Special Projects Advisor who devises strategies with the Kapor Center to diversify Silicon Valley. She is a speaker and thought leader on women in technology and Latino(a)s in STEM with a mind for the geeky and a heart for social change.
For almost two decades she has been a leader in organizations focused on the advancement of women and minorities in STEM. She leads Latino2, the LATISM branch that focuses on empowering Latino(a) founders to build successful ventures to scale. Her work has resulted in much industry recognition, recently being named a 2013 Silicon Valley Latino 40 under 40 Latinos2Watch in Science and Technology, 2011 Femmeonomics Top 50 Women to Watch in Tech2010; and 2010 National Association of Professional Women: Professional Woman of the Year.
Beth Rabbitt :: Mobilizing Next Gen Support for Next Gen Teachers
Beth Rabbitt is a Partner at The Learning Accelerator. Beth has a decade of experience in education entrepreneurship, human capital, consulting, and finance. Her work at TLA focuses on human capital and helping districts build staff effectiveness to ensure blended learning transformation efforts are successful.
Beth was most recently the Director of Human Capital and Innovation at Touchstone Education, a blended learning charter management organization.  Prior to that, she worked for several years as an Associate Partner at the NewSchools Venture Fund, where she identified, supported, and helped to launch and scale innovative education ventures.
Margaret Roth is the Chief Operating Officer of An Estuary, a Baltimore based company that leverages mobile tech, data, and social collaboration in designing sustainable technologies built to support and enrich PD in the education field.
She is the former Director of Operations for the Office of Experiential Education at the Johns Hopkins University. She also acted as Director of Whitewater Kayaking and as the Leadership Development Coordinator where she designed and taught a variety of leadership courses on inter and intra-personal communication, facilitation, team building, and group management. Additionally, Margaret was on the launch team of the Digital Harbor Foundation. There she led the EdTechLink teacher professional development program and acted as coordinator of elementary and secondary student programming.