In presenting at last weekend's amazing CO14 MOOC (for Connecting Educators Online 14) about my multiplatform storytelling for learning project, I was asked by several people to explain how tweet storytelling works.
I must admit this from the outset: I have no idea. Why? 'Coz this is such a new form of interactive storytelling that no other author, to my knowledge, is yet treating #TwitterFiction as a crowd-sourced form of storytelling (btw, thanks @magicandrew, for coming up with the idea).
Still, when it comes to @OutofTimeMovie as an social media story, I do know I can't make it happen without YOU!
What I can tell you for sure is this: Charley Morton, the 13-year-old heroine of this emerging time travel adventure story, Out of Time, fancies herself to be a modern-day Renaissance genius like her Florentine idol, Leonardo da Vinci. She's busy constructing what she suspects were Leo's designs for a time machine, only da Vinci had neither the science nor the technology to build it.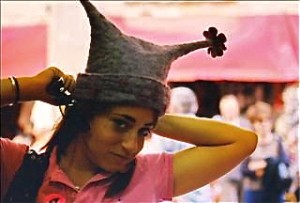 But Charley does. She and her friend Billy are undertaking the project for the Middle School Science Fair, and they're running into problems that perhaps you can help them solve. Charley's tweeting about the snafus, among other things. And she would be tweeting much more if it weren't for homework and her mom making her practice her violin, ALL THE TIME. (Something about 10,000 hours! Really. Check out that magic number 10,000 to see why some grownups think it's so important.)
So Charley is very curious, and loves learning. Just about anything you might want to talk about/ask her about her time machine project/her friends/ambitions/or her not so satisfying middle school social life is fair game.
She's busy tweeting about life. And a bunch of folks have been tweeting back, like @drkent, talking about how time travel can be musical!
So really, in these tweep conversations, sky's the limit. What would you like to know about building a time machine or planning to meet all the superheroes of history? After all, that's Charley's goal.
To start things off, here are the top 10 questions about Charley and her obsession with time travel:
Where in the history of the Universe, does Charley think she's gonna start this adventure, and why?
What's up with her Science Fair partner, class geek Billy Vincenzo?
Who is Kairos and why's he got such a weird name?
What's her deal with spaghetti pomodoro?
What's Charley's least favorite thing about herself?
Who are her friends, and what do they think of her mad scheme?
What if she meets Leonardo da Vinci–what then?
Does she really practice her violin 10,000 hours, or is that just something she says to get her mom to stop asking her?
What's she gonna wear for time travel?
Renaissance history: who cares!
Suggest sights you'd like Charley to visit–in Renaissance Florence for starters. Like, her friend Lex, the hottie and baseball star of her middle school, threw out:
"Hey Charley, if you get to Italy on this mad voyage, check out the Mona Lisa and see if she's really smiling."
Only problem: the Mona Lisa is in the Louvre Museum in Paris, not Florence. The French King François I, a patron of Leonardo's, supposedly appropriated it for France a long time ago. Still, Charley does bring up Mona (or La Giaconda, as she is more formally known) with Leonardo–spoiler alert–when they finally do meet up.
Interested in what old Leo had to say about that? Tweet us.
And a few things Charley would love to hear about from you:
Where would you go in time if you could travel anywhere you wanted?
Do you like to read or see movies with science fiction and fantasy themes?
What are your favorite things to do and learn about?
Do you and your BFF ever fight? How does that usually work out in the end?
Do you tweet? Would you like to join the @OutofTimeMovie tweet storytelling team? Find details here: http://outoftimemedia.com/calling_all_tweeps.html
Any questions for us? We'd love to hear from you. Write us in the comments about any of this stuff. Or follow @outoftimemovie and tweet us and join in the adventure!