What If Your Best Friend Was Also Good for Your Health?
Studies show that dogs and other pets have a positive impact on emotions and mental health in homeless children.
Everybody's heard the old saying that "dogs are a (hu)man's best friend," but now there's evidence that it's more than just a cliché. A team of researchers from the University of Southern California asked kids living in homeless shelters, of whom 23 percent had a pet—dogs and cats were most popular, followed by hamsters, rats, chinchilla and an iguana.
Pet owners reported that their pets made them less lonely and depressed. Among the 398 kids surveyed in two drop-in centers in Los Angeles, 85 percent agreed that "my pet keeps me company," 79 percent said the pet "makes me feel loved" and 73 percent said the pet "makes me feel safe."
But the study reported challenges for these homeless kids with pets. The biggest downside was the difficulty of finding a shelter that would welcome them, since most shelters have a no-pets' policy. Other challenges included affording food and not having access to a vet.
How Pets Make a Difference
This cool infographic by Happify shows us some of the ways pets and people make perfect BFFs. Not sure about whether robot dogs as, "Pets of the Future," could ever substitute for the real thing, but we're willing to venture into the future to find out!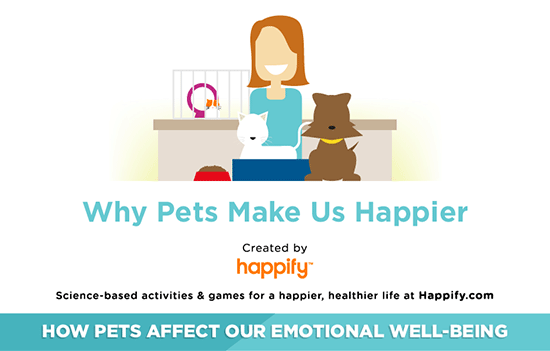 How Can We Help?
Knowing what we do about how pets improve our health and well-being, and imagining the stress that homeless children come under, are there ways to help support homeless or street kids with pets?
Pets of the Homeless is one place to start. This nonprofit organization has collected more than 433 tons of pet food for distribution by local food banks, pantries, soup kitchens and homeless shelters to the homeless and disadvantaged in their communities. They've provided treatment for close to 14,000 pets. And they've gotten contributions of pet food, veterinary care and crates for over 400,000 pets at 418 donation sites around the U.S.
Who's Your Best Friend?
An unscientific survey at EOY Media indicates we're super-duper animal lovers. Miniature schnauzers make us happy (Blue, Doc, Solly and Manny). Our canine kin also includes a Hungarian Vizsla (Bela), an English springer spaniel (Mr. Darcy) and a black lab (Jake). But dogs aren't our only pets in the present or in our family history: gerbils (Scribbles), goldfish (Slim Jim and Goldie I, II, and III), turtles (Myrtle, Moses, and Jezebel), rabbits (Willoughby) and birds (Tweeter, Polly and Peter) also make the list. A future golden doodle will soon be added to our menagerie; if it's a girl, we're naming her Daisy.
Loyal, playful, helpful and loving, all our pets deepen connections in the family. As author Anatole France said, "Until one has loved an animal, a part of one's soul remains unawakened."
Do you agree? Tell us your favorite pet story! What are some of the ways you can think of to bring a loving animal into the lives of more kids and families who might love them—even those without permanent homes?
Want to Learn More?