Frida Kahlo: STE(A)M pioneer paints beauty from brokenness
The celebrated artist has a secret science past, powerful story we connect with today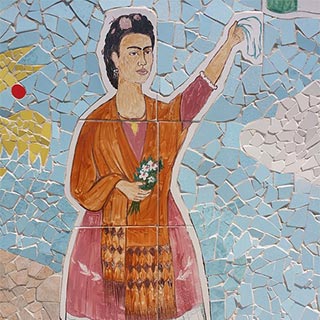 Frida Kahlo is one of the most influential Latina painters of the last 20th century. She almost never became an artist.
Born Magdalena Carmen Frida Kahlo y Calderon in Mexico, Frida's childhood was riddled with medical troubles, including polio, possible spina bifida and a bus accident at the age of six that left her permanently disabled.
It could be that these medical issues were what drove her into an interest in medicine.
However, while recovering from injuries that rendered Frida bedridden, she began to paint. That's when her enrollment at the National Preparatory School's premedical program took a backseat and eventually influenced her artistic ambitions.
Widely associated with feminism, Surrealism and indigenism, it was Frida's work grappling with the triumphs, failings and politics of the body that reflect her past interest in medicine. In fact, her work is being used today to attract more Latinos into the field of medicine.
That starts with her own body, as of her nearly 150 paintings, a full third are self-portraits of Frida in various states: traditional portraits from head to bust, depictions of her miscarriages and her bound to a wheelchair.
Here are four Frida Kahlo paintings that truly evoke both her artistic talent and her medical troubles.
A selfie of Frida, standing erect, with nails dotting her body like some acupuncture treatment gone mad, the painting seems to represent the anguish of her suffering. Instead of a spinal cord, her posture is supported by a broken column. Still, she looks straight ahead and doesn't flinch, as if determined to triumph over her body.
Two sides of a similar coin, Frida grapples with the medical realization of childlessness. In My Nurse and I, she is being fed by her "nurse," who feeds her in a plant-like manner. In Roots, the opposite is true: Frida, reacting to previous miscarriages, feeds her motherland - the Mexican desert - with plant-like tendrils emerging from her body. Both have barren tones and in Roots, there's even a crack forming by her body, noting a rift between perception and reality.
After being confined to a steel corset, Frida Kahlo created a split portrait of herself: one side representing one fissure in the earth bathed in sun is a Frida bearing the scars of painful surgeries. The other Frida, bathed in moonlight representing the other fissure in the earth, is wearing a beautiful gown, holding a pink back corset and a flag with a Spanish phrase: arbol de la esperanza, mantente firme. In English? Tree of Hope, Keep Firm.
In the Guardian, Frida is described this way: "She is one of those artists that people find their way to, not just through the paintings. They come through fashion, style blogs, bios and film.
They come to the paintings at the end... Suffering is a big part of the story – and she deals with it in an explicit way through her art."
Her art is powerful, but also universal. Her art and her life connect her to us, inspiring us to identify with her story today.
Want to Learn More?
Delaney, Brigid. "Frida Kahlo: why we can't look away from the world's first selfie superstar." The Guardian, Guardian News and Media, 19 Jul, 2016. http://www.theguardian.com/artanddesign/2016/jul/20/frida-kahlo-why-we-cant-look-away-from-the-worlds-first-selfie-superstar. Accessed on 26 Aug, 2017.
"Frida Kahlo Paintings" Frida Kahlo Paintings, http://www.fridakahlo.org. Accessed on 26 Aug, 2017.
"Frida Kahlo as medical school recruiter?" Southern California Public Radio, 12 Oct, 2012. http://www.scpr.org/blogs/education/2012/10/12/10463/southland-doctor-uses-frida-kahlo-paints-recruit-m. Accessed on 26 Aug, 2017.