37,166. That's how many words Word tells me I have written, sweated over, researched and edited so far writing Out of Time. My guess–I'm a little about one-third of the way through the storytelling.
I choose the words carefully, inspired by some master storytellers: Mark Twain for time travel, humor and social satire (A Connecticut Yankee in King Arthur's Court)…Irving Stone for describing the artistic process and the life of the artist, Michelangelo, his life and times, so artfully (The Agony and the Ecstasy)…Tom Wolfe for a more modern-day take on that anti-Medici sport known, then and now, as The Bonfire of the Vanities…Suzanne Collins for authentic young adult fantasy (The Hunger Games)…Madeleine L'Engle for science fiction and beautiful language.
I don't dare place myself in their lofty company; these are aspirational peers.
Daring to reach so high is daunting–a mission I couldn't possibly accomplish without support and encouragement.
When Words Count then becomes more than a number. Whether the story can (and should) be told in 5,000 words or 50,000 is not a matter of quantity, but quality. And it takes a village.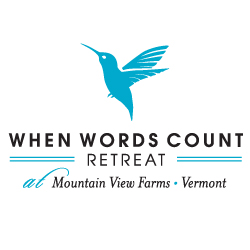 SO…I've come to a writers retreat center in Vermont during the Blizzard of 2014 for a shot of confidence. It is fittingly called When Words Count Retreat.
Its proprietors, Steve Eisner and Jon Reisfeld, might be considered the modern-day equivalent of patrons for writers–the di Medici's of our day–with a bit of a commercial twist.
Steve and Jon have started a writers competition culminating in a Pitch Week at their retreat in September. Phase 1 is a boot camp and one-on-one coaching sessions, preparation for Pitch Week and the luxury of time, unstructured and uninterrupted, to write. The Grand Prize: a book contract with a New York publisher, an agent and a publicist. Runners up (6 out of 25 finalists in the latest go-round) get exposure with senior decision-makers in New York's publishing pantheon.
I am here for Pitch Week prep. What better place to be snuggled up to Charley, Leonardo and friends both real and fictional, with snow swirling outside: no place to go. No phones to answer. No distractions. Someone else to cook, clean and take care of everything. Inspiration from Emily Dickinson, Mark Twain, Arthur Miller, Ralph Ellison, Pappa Hemingway, F. Scott Fitzgerald, Gertrude Stein, Virginia Woolf, and other muses of American fiction whose works, artifacts and images grace the walls and pantries of the retreat center's thoughtfully furnished rooms, library and salons.
This weekend, I am inhabiting Emily Dickinson.
For now, with snow drifts deeper than four feet embanking this restored farm house, there is no better place to be than in front of the fire, fresh coffee replenished throughout the day, in the company of writers, writing. We're all sharing our stories.
This is When Words Count.